IEPAL Italian Press Review
---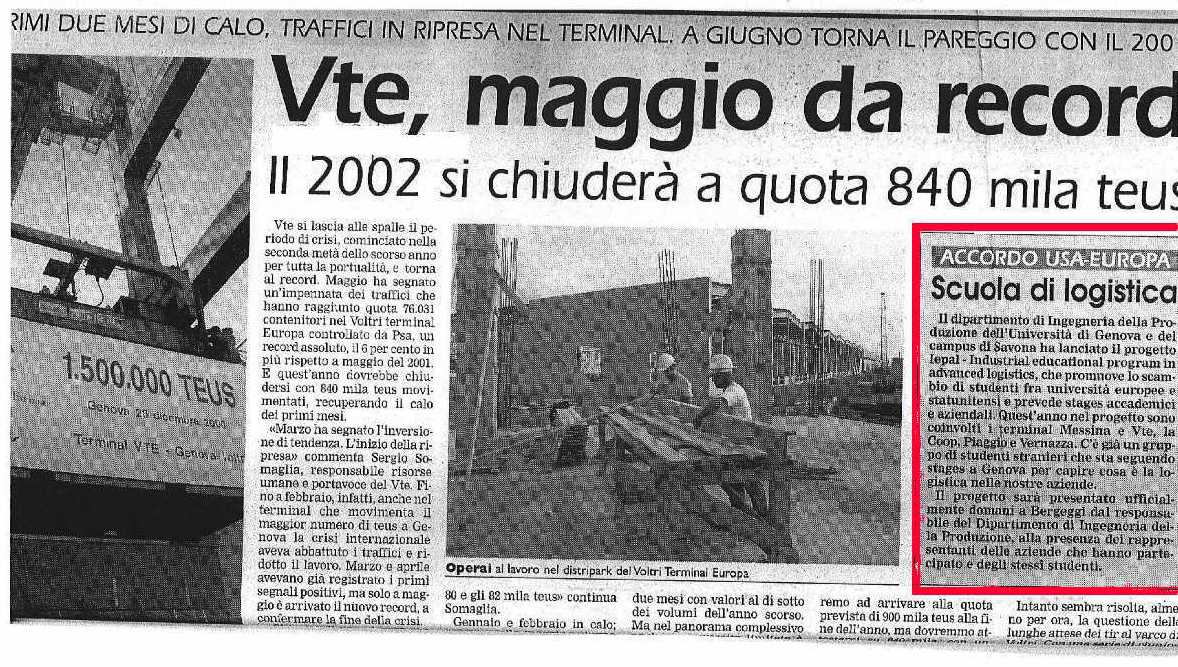 Corriere Mercantile 2002, July 3
Logistics School
The Department of Industrial Production of Genoa University and of Savona Campus launched IEPAL project - Industrial Educational Program in Advanced Logistis; this project promotes the exchange of students between European and USA Universities and it includes academic and company experiences. This year the project involved Messina terminal, VTE, COOP, Piaggio and Vernazza; a group of foreign students is already active in Genoa Module in order to learn the meaning of logistics in our industries.
The project will be officially presented tomorrow in Bergeggi from responsible of the Department of Industrial Production to the company representatives involved and to the students.
---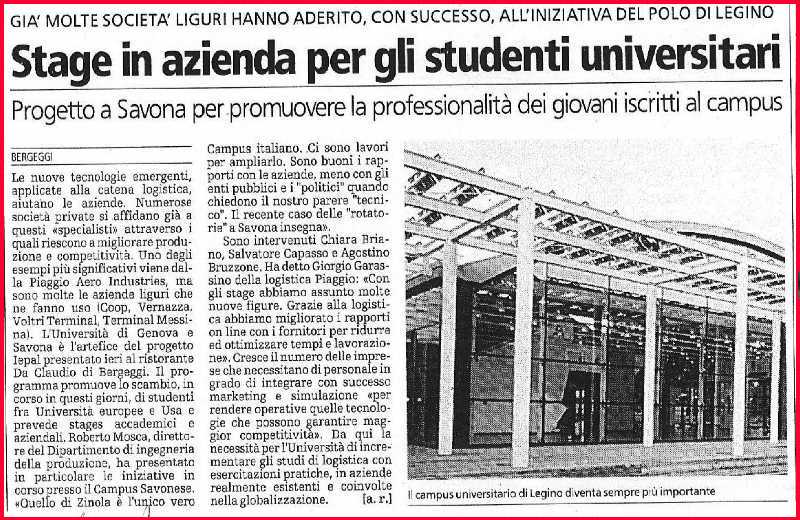 Module in Company for University Students
Project in Savona for Promoting Profession among young Campus Students
New emerging technologies applied to supply chain are supporting companies. Many private companies use these specialists that improve production and competitiveness.
A majorexample came from Piaggio Aero Industries, therefore there are many Ligurian Companies that use these techniques (COOP, Vernazza,Messina Terminal). Genoa University and Savona are artifex of IEPAL project presented yesterday in Claudio Congress Center in Bergeggi.
The program promotes the exchange of students between USA and European Universities and includes academic and company stages. Roberto Mosca, director of Department of Industrial Production, presented details about actions in Savona Campus "The Savona Campus in Zinola is mostly the only real Italian Campus. There are works for extending it. The relationship with companies are good, with but the public institutions and politicians there are still some misunderstanding when we provide our "technical" consulency. The recent case of Urban Traffic in Savona it is a good example".
During the presentation Salvatore Capasso and Agostino Bruzzone was present. Giorgio Garassino of logistics in Piaggio said "With Stages we had opportunities for hiring many people for new figures. Thanks to logistics we improved the on-line relationship with our suppliers in order to reduce and optimize times and costs."
The number of companies requesting personnel with skills in marketing and simulaiton integration is growing "in order to transfor these technologies in an operative support that guarantees competitiveness improvements". Due to these reason the necessity for University to increase the logistics research with practical exercises, in real companies involved in globalisation.

---

The Engineering Campus is talking American
IEPAL Activities was presented yesterday, this project brings to Savona in these days 18 Students also from USA
Yesterday, in Claudio Bergeggi, the activities of IEPAL project was presented; this initiative was created to bring american engineering students in Europe and viceversa; first 18 students arrived in Savona just in these days from new continent. The first six students from Savona will leave to USA in September. In Liguria project partners include Messina Terminal, Piaggio Aeroindustries, Vernazza Cranes, Voltri Terminal Europe; mixed teams with european and USA students are or will be working using their background in order to solve real problems in the next 3 weeks. At Academic levl, the partners are University of Genoa (DIP Department of Industrial Production), Marseille and Magdeburg, Boston College, University of Central Florida and Stevens Insitute. Roberto Mosca, director of DIP, explains "The Iepal project brings together two of the three major goals fixed when we funded the new Savona Campus: Internalisation of the study and connection with local activities and local companies. We expect significant results: we will proceed in this direction including systematically in our courses colleagues from world-wide". Piaggio presented the positive results obtained by a direct contact between company and University. In the last years, Piaggio hired 10 engineers from University stages. However IEPAL it is not a simple stage: it brings students to work together with colleagues from other nations, comparing experiences and, at the same time, links their activity to the local companies.

---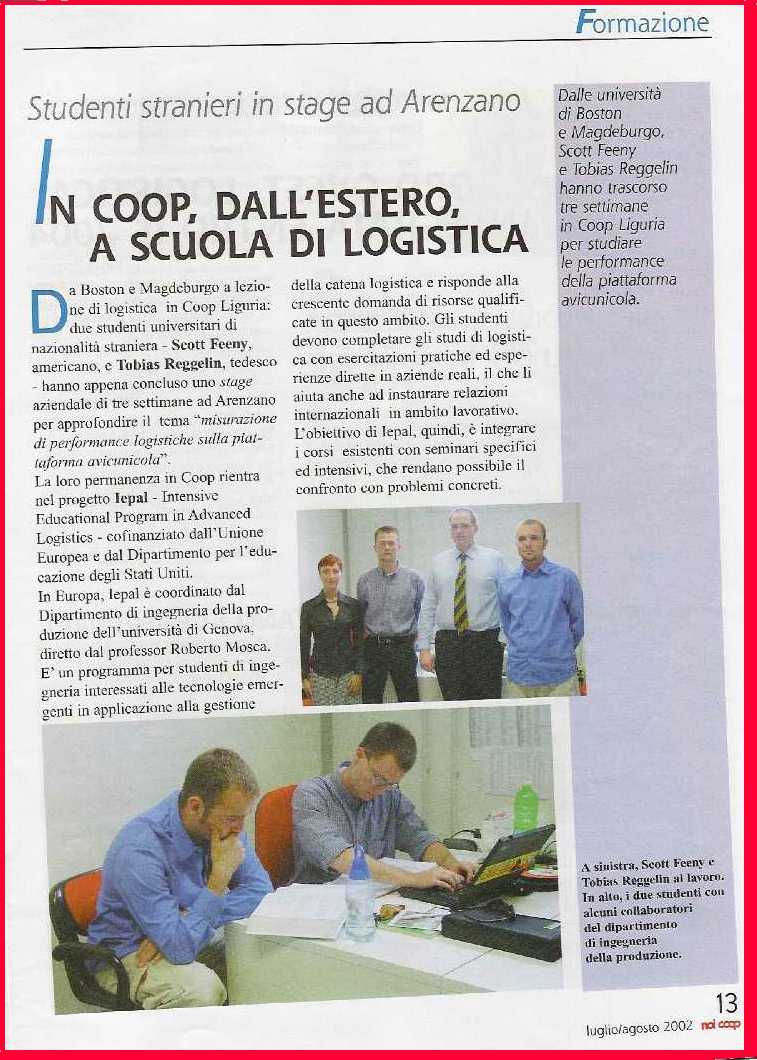 Noi COOP, July-August 2002
Foreign Students in Stage at Arenzano
From Boston and Magdeburg Universities, two students are coming for 3 weeks in COOP Liguria for studying performance of avicunicola logistics platform
From Boston and Magdeburg for lectures in COOP Liguria; two foreign College students, Scott Fheeny USA and Tobias Regelin, Germany, have just completed their 3 weeks industrial stage in Arenzano about "measurement of logistics performances in avicunicola platform"; their stay in COOP is part of IEPAL inititiative cofunded by EC and Educational Department of USA. In Europe IEPAL is coordinated by Department of Industrial Production, Genoa University, directed by Prof.Roberto Mosca. This is a project for engineering students interested in emerging technologies applied to mangement of supply chain and it is a reply to the growing demand of skilled people in this framework.The students are requested to comple logistics study with practical exercises and experiences in real companies in order to establish relationship internationally in work place. The final goal of IEPAL it is to integrate existing courses with specific intensive seminars for facing real problems.
---
Back to IEPAL Home Page