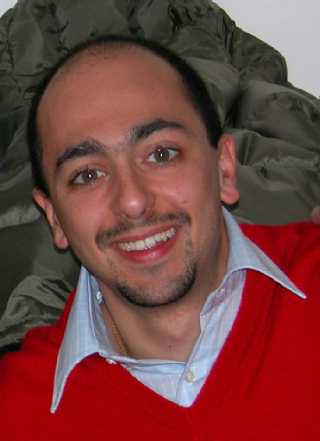 CURRICULUM VITAE
Matteo Sanguineti
IEPAL Student (Male) Italy
via Molinero 1, 17100 Savona, Italy
---
MANAGEMENT ENGINEERING EDUCATION
---
PERSONAL DATA
Born in Savona (ltaly), on 2Ft September 1979

Educational Background
In 1998 I took my scientific high school certificate in Savona, with the score of 60/60.
I'm now regularly attending the fifth year of the course in Management Engineering at the University of Genoa - today I successfully passed 38 exams, with an average score of 29/30
Professional Under-graduation Experiences
From 1998 to 2001 I bave been an associate of Co.S.U.S. - G. Dandolo s.c.r.L, a society locally working in I.T. and services and also far the University ofGenoa:

From ApriI 1999 to November 2001 I bave been a member ofthe Directory Board
From ApriI 2000 to November 2001 I bave been Vice-Chairman
During this time l've been working in the following:

In a group context I took part in the adrninistration and management of the society
I managed commerciaI activities regarding small and medium business customers

During 1999 I was technical assistant to the LT. teaching facilities ofthe University ofGenoa located in Savona.
Due to an increase in my academic studies, I left my working activities late in 2001.

Foreign Language
Good written and spoken English
In the summer of 1998 I spent 45 days in the U.S., improving my speaking and listening skills
I'm currentty attending lessons from a mother language English teacher

Informatěon Technology
Thanks to the working experience and to myown enthusiasm in this matter, I gained a very good knowledge ofmany I.T. instruments:

Workstation operating systems (operation and maintenance), both Microsoft's and Open License (Linux) - Server O.S. like Windows NT 4.0 and Windows 2000 Adv. Server o Office automation software (Microsoft Office)
Programming Languages: Visual C++, Java, Visual Basic
Mathematical programming Languages and solving tools: Mathematica, Matlab, Maple
More
European Driving Licence taken when I was eighteen Intemational S.C.U.B.A. diving instructor l'm under military service, delayed far educational reasons

HOW TO CONT ACT:
Address:
Matteo Sanguineti
Via Alessandria 12/b
17011 Albisola Superiore (SV)
ITALY
Phone: +39019481000
Mail: matteosanguineti@infinito.It
---
Last Update: Savona, June 2002
---
Back to IEPAL Home Page