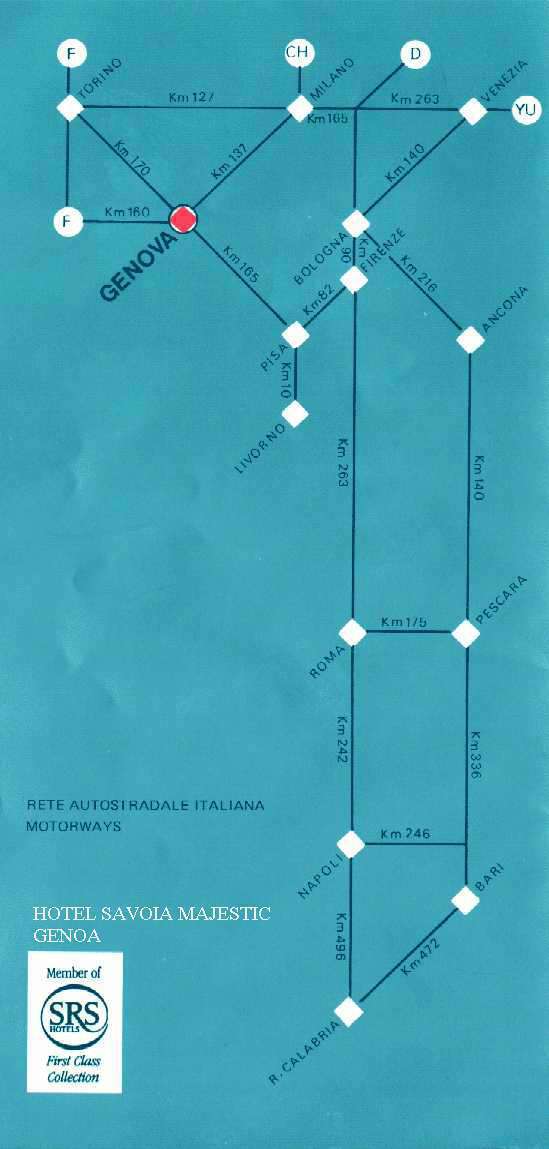 ---
Genoa is located in the Middle of Italian Riviera, very near to Portofino and SanRemo.
The most famous beaches and tourist sites of Italian Riviera are located few miles away from Genoa Downtown both in east and west direction


---
Genoa is about 140 km (80 miles) south of Milan,
200 km east of Nice (F),
550 km (350 miles) west of Venice,
240 km (150 miles) west of Florence,
500 km (310 miles) nord of Rome
and 760 km (450 miles) north of Naples.


---
Genoa Airport is connected by the major airlines to London, Paris, Zurich, Frankfurt, Munchen, Rome, Milan.
There are daily flight connections to all the major Italian towns (Venice, Naples, Sardinia and Sicily Islands etc.).


---
Railways, highways and Bus connections provide a very good support to reach all the other major sites and airports of the area in few hours (i.e. 2h by train to milan, 4h to Rome and 3h to Nice).
---
Fast Ferries (40 knots/ 70km/h speed) connect Genoa to the wonder ful Mediterranean Islands (Corsica, Sardinia) in few hours.
---