CURRICULUM VITAE
Francesca Oliva
IEPAL Student (Female) Italy
DIP University of Genoa
via Molinero 1, 17100 Savona, Italy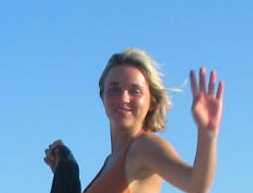 ---
OLIVA Francesca, Born in Genoa (ITALY) April 5 1980, Lives in Finale Ligure (SV) Via Ventura 3/14.
Phone +39 019 603053, Cell. +39 347 8443442

She had her High School Degree on July 15, 1999, at Scientific Lyceum "A. Issel" in Finale Ligure (SV) with the final mark of 100/100

She is "Work Flagman (Alfiere del Lavoro)", a special honor title given by the Italian Government, was entitled by the National Federation of Work Cavaliers for her scholastic career, the ceremony took place on October 26, 1999 in the Quirinale Palace by Italian Republic President, C.A. Ciampi

She is now going to attend the 4th year of the Degree in Management Engineering at Genoa University, Savona Campus and presently she has passed all the exams of the first three years with a mean mark of 29.96/30.00. She reported cum laude honors in nine examinations over 22 completed courses.

During summer holidays she has studied for two weeks in England (London, 1996), for two weeks in Scotland (Edinburgh, 1997) and for three weeks in the US (New York City and Boston, 1998) for improving language. She has a good knowledge on English (Upper Intermediate)

In 2002 she attended to a special industrial module of IEPAL project, working in an international team composed by 2 Italians, 2 USA and 1 French University Students for the Venice Port Authority. This project was devoted to define the requirements for a new supply chain for Venice Area.

After school time she dedicates as voluntary to assistance

Her hobbies are classic and modern dance, fitness and ski.

---
Email francesca.oliva@libero.it

---
Last Update: Finale Ligure, March 26 2002
---
Back to IEPAL Home Page