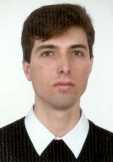 Sergio Pozzi Cotto
He attended the Course of Engineering at Genoa University where he obtained the University Diploma (short Degree) in Logistic and Production Engineering in December 1996 with the final marks of 106/110, then he completed his studies obtaining his Degree in Management Engineering in 2000 with the final marks of 110/110 and lode. He completed the Management Engineering degreeworking on PUMA project in cooperation with Ansaldo Energia. Currently he is working in DIP (Department of Production Engineering) with a research grant.
In may 2000 he participate to the international symposium in Instanbul ICAMES 2000 with his project "PUMA" winning the best project award ( see some pictures about the event in this hyperlink).
In October 2000 he win the 2° award of "Luigi De Januario" foundation of Milan for dissertation on industrial plants field.
He experienced a stage in California State University Chico, working on HTML and Java Programming during summer 2000, while in 2001 falls he visited Magdeburg University for a cooperaiton in IEPAL project working on logistics and material handling.
Currently he is researching on scheduling, safety applied to mechanical industries, simulation of industrial systems and D.O.E. techniques; he is expert in using Visual Basic (tm) and Excel (tm) and in integrating different tools with Office Applications (tm). Now he is involved in a Vocational Training Courses Development under a Pilot Project granted by the Leonardo Da Vinci Community called BATCOS.
He participated to several international congresses (HMS2000, ESS2000/2001/2002, MITIP2001/2002, MIC2002, etc.)

He likes playing soccer where he is a quite famous regional player.
---
| | |
| --- | --- |
| Nicknames: Squalo, Shark | |
---
References: Sergio Pozzi Cotto
Office: Phone + 39 019 264555; Fax +39 019 264558
Email: pozzi@itim.unige.it