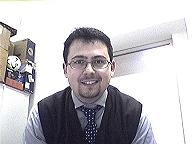 Simone Viazzo
He was a student of Logistics and Production Engineering in Genoa University, Savona Campus. He completed his thesis working on a scheduling system tailored for EPP Chiavari.
He participated to IEPAL industrial module in Italy working in a multinational team (Germany, USA, Italy) composed by master students.
In July-August 2002 he visited UCF in Orlando working on the creation of an Ontology for Supply Chain Management.
He attended to several international conferences (i.e.MIC2002/AI2002 Innsbruck, ITEC2002 Lille, ICAMES2002 Istanbul, SCI2002 Orlando, etc.) presenting papers about M&S.
In 2004 he was involved as responsible for Technical Coordination for CIELI in HMS2004 in Rio de Janeiro.

He had working experience as part of DIP Research Team.
He participated as model and program developer in project ROSES2001 for CETENA/FINCANTIERI, an innovative simulator for studying oil spill phenomena.
He is involved in DICOSAP Project for COOP Liguria in studing inventory management policies and process testing.
He had experiences integrating Simulation and ERP system for DIP Team as technical responsible in Frozen Food Logistics, Consorzio di Nord-Ovest. He works in ABB.
References
Simone Viazzo
Savona
Mobile +39 347 8250961
Email viazzo@itim.unige.it